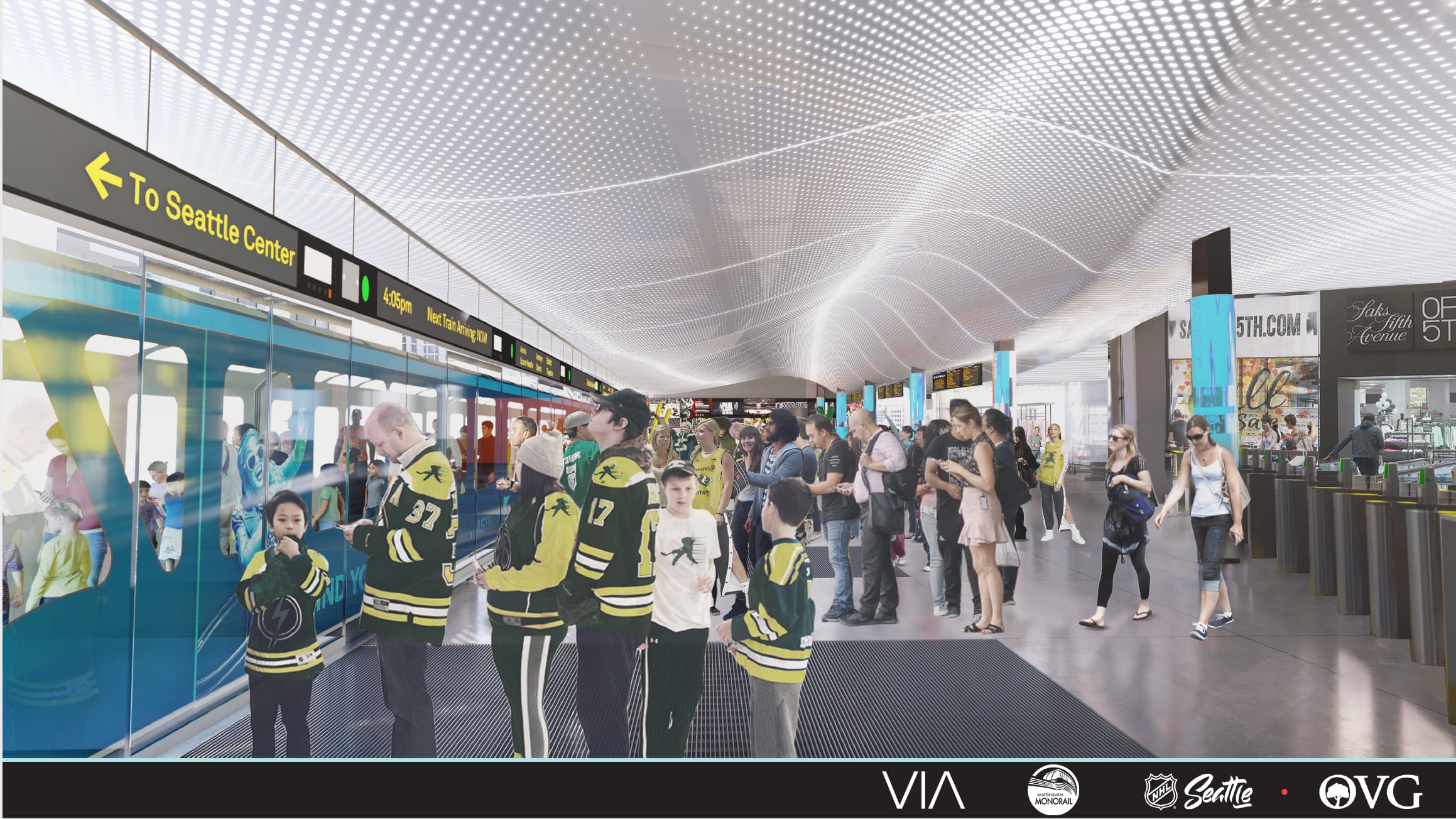 Since 1962, Seattle Center Monorail has been the fastest, most direct way to travel between downtown and Seattle Center. Today, we are excited to announce a partnership between Seattle Monorail Services and NHL Seattle! Seattle Monorail Services (SMS) is the private company that operates the City-owned Monorail through a Concession Agreement. Seattle Center Monorail will be included as a key transportation partner for the new Arena opening in 2021.
In just shy of a month from now, Seattle Center Monorail will celebrate its 58th year of service in Seattle. The Monorail was built for the 1962 World's Fair. During the six months of the Fair, this system carried over 8 million passengers, equivalent to about 45,000 passengers per day.
SMS is thrilled about the commitment NHL Seattle has made to identify alternative ways to manage transportation.
SMS and NHL Seattle will make private capital investments at Westlake Station that will double system capacity, improve accessibility, and better connect the Monorail with the regional transit network. These improvements are an investment in an enduring and iconic system, leveraging the vision that City leaders had nearly six decades ago.
These improvements were informed by the Station Configuration Evaluation Report completed by VIA Architecture in 2018. A major recommendation from the study was to increase capacity by decreasing the amount of time it takes to load and unload passengers from each train. Monorail station improvements seek to accomplish the following:
Once the improvements are implemented at Westlake Station, passengers will be able to exit and enter the monorail through all eight doors.
Vertical access to street level, Link Light Rail, and parking will be improved with access to Westlake Center's retail elevator and escalators during peak ridership periods in addition to the existing elevator and stairwell which already provide direct access to 5th Avenue and the Downtown Transit Tunnel.
At Seattle Center Station, during peak ridership periods, the platform will be able to be reconfigured to allow boarding from both exterior platforms, currently where passengers are used to exiting from, to maximize capacity and keep lines moving quickly.
Operationally, at both stations, SMS is working towards a solution where passengers will be able to tap their ORCA cards or redeem their monorail tickets at automated fare gates; passengers who need to purchase their tickets will be able to do so at ticket kiosks.
VIA Architecture is working with Seattle Monorail Services and NHL Seattle to design this transformative project.
Public transportation is an important way attendees will get to NHL games at the new Arena. Today, NHL Seattle also announced that they will offer subsidized public transit for all fans attending hockey games at the New Arena.
NHL Seattle becomes the first Seattle-based sports franchise and only the third professional sports organization in the U.S. to offer a free public transit benefit for fans. Only the NBA's Phoenix Suns and the Golden State Warriors have similar programs-and Seattle's is by far the most ambitious. The only exception will be fans who already receive ORCA card subsidies from employers.