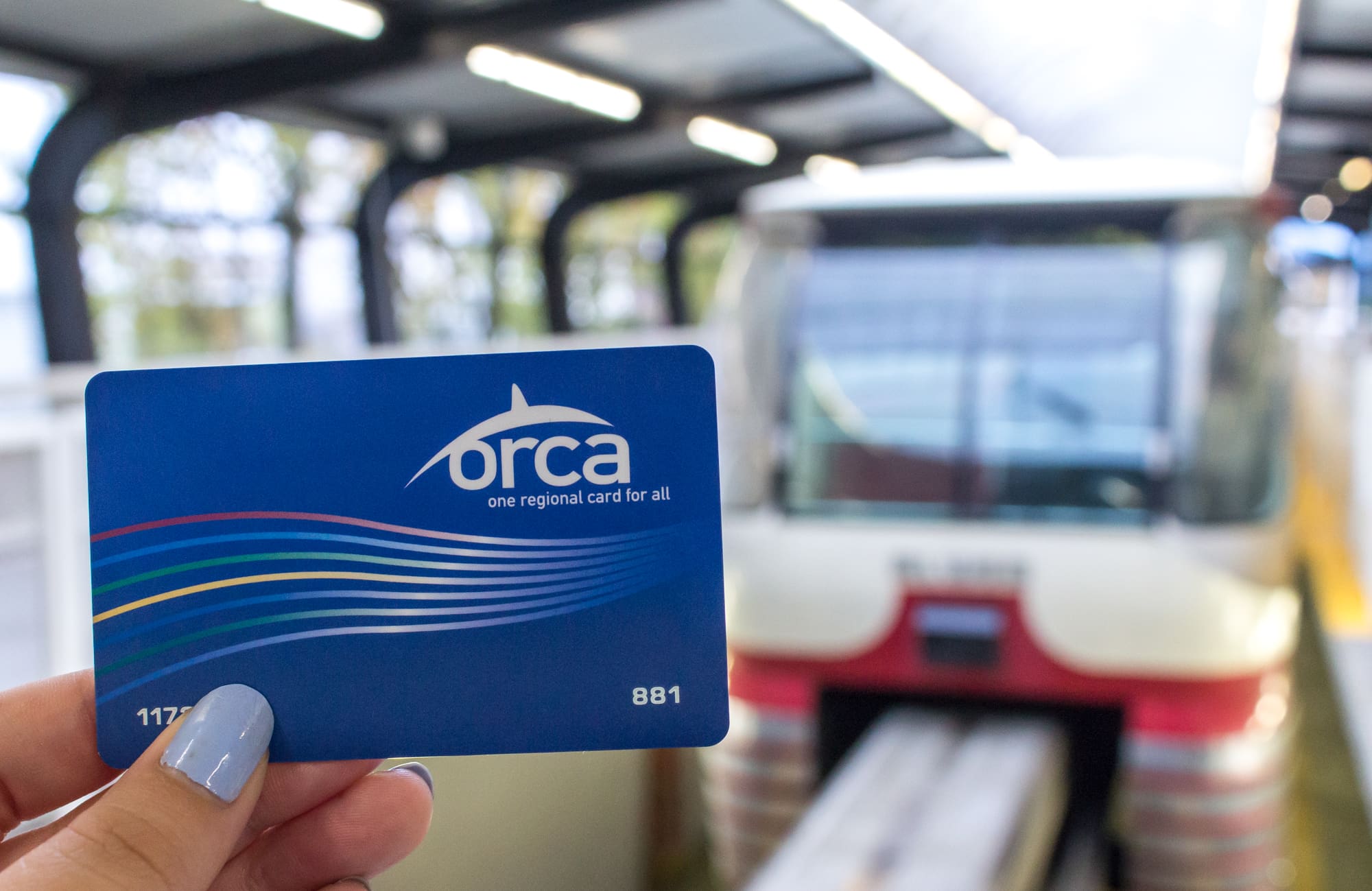 ORCA as a fare payment option beginning Monday, October 7, 2019. Present your ORCA card to the Monorail cashier to pay your fare.
Celebrating ORCA Acceptance – October 7-11, 2019
To celebrate, we're giving away small goodies to the first 100 people who use their ORCA card when riding the Monorail. Additionally, we'll be partnering with some fantastic Seattle Center attractions to give away prizes to a few randomly selected ORCA cardholders using the Monorail.
Prizes include tickets to Museum of Pop Culture (MoPOP), Space Needle, Chihuly Garden and Glass, Seattle Rep, Pacific Science Center, SIFF, and monorail t-shirts! We hope to see you at the Monorail!
How to use your ORCA card at the Monorail
Present ORCA card to pay your fare
Cashier will tap card and return it to you
Board Monorail and enjoy the ride!
If your PugetPass or transfer value is less than the Monorail fare, pay the difference with E-purse or cash. Please note, ORCA transfers will be accepted. Paper transfers will not be accepted.

Frequently Asked Questions:
Q: Will you accept ORCA LIFT or RRFP cards?
A: Yes! We will accept all ORCA card types including adult, youth, ORCA LIFT and Regional Reduced Fare Program (RRFP) for seniors (65+) and people with disabilities.
Q: Can I use my company provided ORCA card or my PugetPass (monthly pass)?
A: Yes! Commuters with employer-provided ORCA Business Passport can use their ORCA card with no additional out-of-pocket cost. People who use monthly PugetPass or E-Purse should make sure they have enough money on their ORCA card to pay any fare difference. For example, if you have a PugetPass at the $2.75 value, when you present your ORCA card at the Monorail for an adult one way, you will be asked to pay $0.25 difference. If you have available funds on your E-purse, the $0.25 will automatically deduct.
King County Metro has plenty of other helpful ORCA FAQs available to read here.