Page last updated: April 22, 2022
Hours of Operation
Monday-Friday: 7:30am-9:00pm
Saturday-Sunday: 8:30am-9:00pm
Hours of operation will be extended for events at Climate Pledge Arena to provide transportation to and from Arena events. For a full list of extended hours of operation for Arena events, Visit Here.
*Please check our "Rider Alerts" for current updates.
Below is a comprehensive list of COVID-19 safety measures at the Seattle Center Monorail.
Safety Procedures & Social Distancing Implementation
Seattle Monorail Services strongly encourages wearing a mask in the stations and on the trains.
To reduce our employee's exposure to germs, the Monorail is only accepting ORCA cards and credit/debit cards. The Monorail is temporarily suspending the acceptance of cash, which requires employees to handle bills and coins from the customer and increases risk to our employees.
Regular PA announcements encouraging people to spread out on the platform and inside the train to abide by social distancing guidelines.
Stanchions are blocking off the far ends of both trains to provide distance between where the public sits, and where our monorail drivers sit and operate the trains. Find a seat anywhere else on the train, but not next to or behind the monorail driver.
The doors closet to the drivers (at the very far ends of each train) are temporarily turned off to prevent passengers from boarding or disembarking near the driver.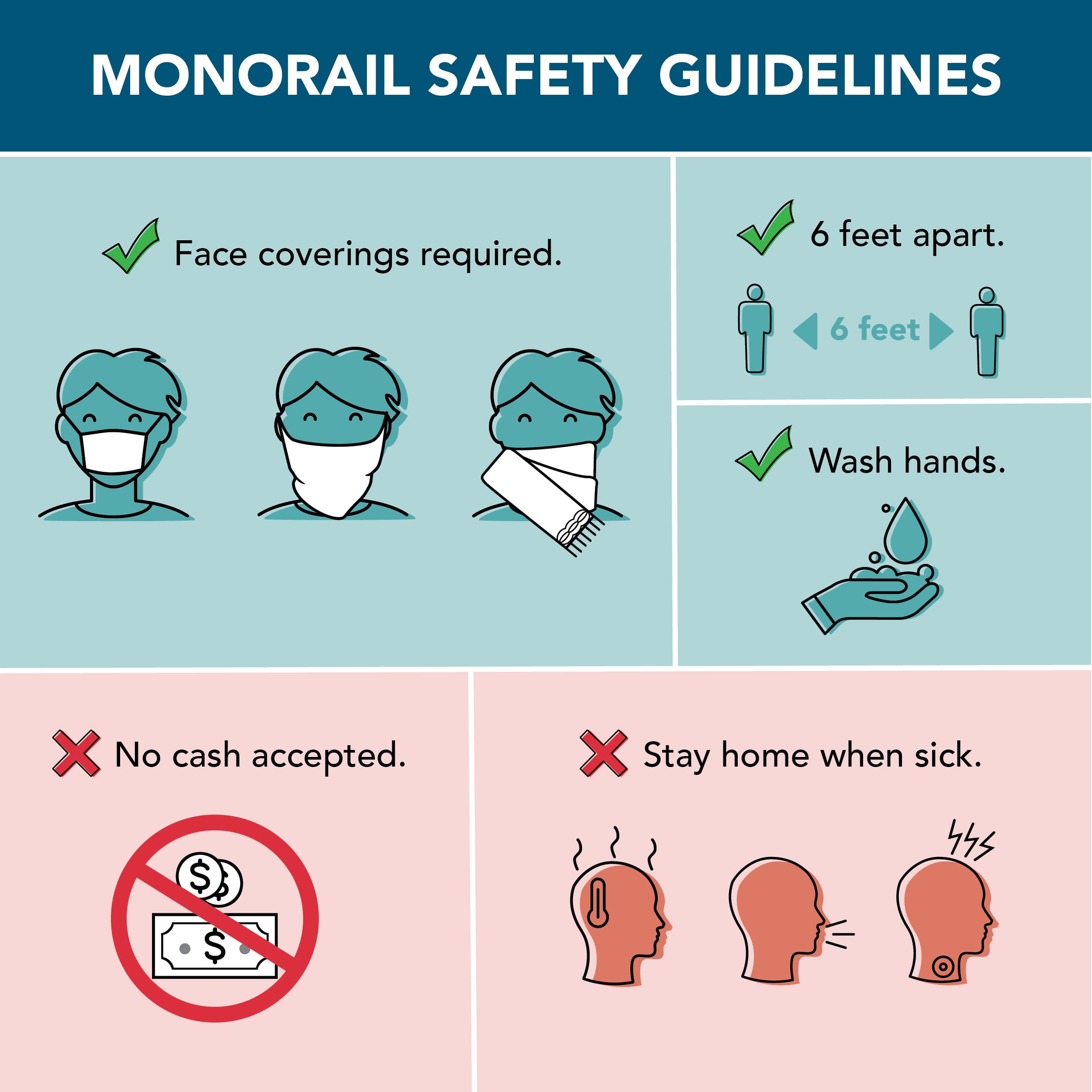 Our Cleaning Procedures
The following protocols are implemented to help reduce the transmission of COVID-19:
Seattle Monorail Services (SMS) is only operating one train per day to ensure concentrated effort on sanitizing the train that is carrying passengers.
Each day, a deep clean occurs on the train that will be in service the next day.
All employees are provided with paid breaks throughout their shifts to go and wash their hands and wipe down their workstations. SMS employees will clean their workstations before and after their scheduled shift and their designated breaks; all employees will be provided with ample paid time to do this.
Employee Protocols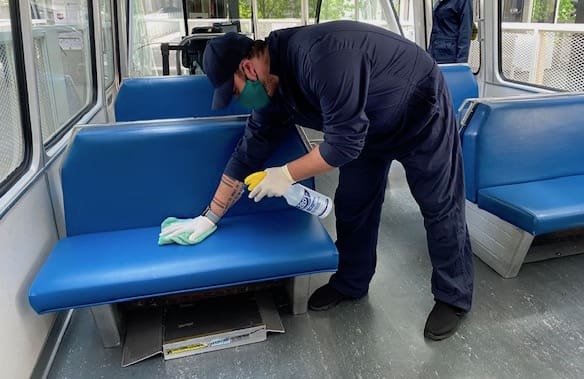 In addition to recommendations from the CDC and FTA guidance, all SMS employees are required to adhere to the following procedures:
Mandatory temperature checks occur for all SMS employees before they begin a shift.
All employees are provided with Personal Protection Equipment (PPE) which includes washable cloth masks and nitrile gloves.
All employees are required to wear masks during their shift.
All employees completed a mandatory training on online safety training. All employees have completed the training before returning to work. Hands-on training is also provided on-site. Safety and disinfecting processes are audited by managers and supervisors.
All employees are required to be vaccinated against COVID-19 to be eligible to be scheduled unless SMS has formally waived the requirement due to a written physician recommendation or employee notification of sincerely help religious beliefs against the vaccination.
Signage
The signage below reflects current safety protocols and is posted in stations, on ticket booths, and throughout the trains.